We will set up your corporation instantly & correctly. We will file all the necessary front-end and back-end paperwork with the State of Florida and the IRS so that your business is formed correctly and legally.
Our new business start-up package includes filing fees to State and Federal Agencies) and includes the following:
We will do the following for your new business under our Start-up Package:
Select a business structure that best fits your needs by evaluating tax advantages, legal exposure, ease of operation and portability should you need to relocate due to expansion or other reasons.
Prepare & file your application for your Federal Employer Identification Number & give you the assigned number for business & banking purposes.
Prepare and file all required state and local licenses and permits.
Advise and Guide you on how to start and run a successful business (Business Management 101).
Advise you on how to properly protect your personal assets from any potential future claims.
Advise you on how to maximize your expenses according to new IRS guidelines of January 1, 2014.
Show you how to keep proper records. 
Show you the basics on employee tax requirements.
Determine your start-up capital needs.
Identify sources of start-up capital and backup sources if needed.
Evaluate and quantify your borrowing power so you know how much money you can get your hands on if needed.
Select the right accounting software by evaluating your budget, needs and hardware.
Prepare a Cash Flow Budget so you know exactly how much money you need to keep the business alive each month for the first few years. Unplanned cash requirements are always emotionally painful.
Establish billing and collection procedures to maximize your cash flow.
Establish procedures to monitor and control costs.
Setup a home office so you can maximize your tax deductions.
Provide payroll and payroll tax filing when you bring on your first employee.
Comply with employment laws so you don't get hit with fines and unhappy employees.
Identify your business insurance needs.
Determine your credit status for loan and vendor purposes.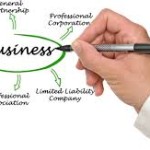 Incorrectly incorporating a new business can adversely affect the future of your new business, it can cause ongoing issues with the IRS and be costly to fix. You want your new business to be a success right from the start and so do we! Do it right the first time!
There are distinct differences between sole proprietorships and other types of incorporated businesses. Determining which one is correct for your business can be confusing and complicated. We will assist you with determining which type of incorporation works best for you. There are many ways to structure your business. Together we will decide whether an S-corporation, C-corporation, partnership or  LLC, is best for your business. 
Once you are up and running we can provide the following additional services (prices vary):
Business Valuation
Lease vs. Buy Analysis
Profit Maximizing Strategies
Financial Statement
New or Increased Lines of Credit
Fraud Detection & Prevention
Financial Statements
Business Consulting 
Established Business
Williams & Williams CPA have assisted many established businesses throughout the Orange Park, Fleming Island, Jacksonville and Northeast Florida area, and our expert services could benefit you as well.  Schedule your free "business status" consultation and find out if your business has been correctly structured to take full advantage of the tax benefits that are available for you. You may be paying more than you need to be.
Your CPA for life & business.
Have a question or need some advice? 

Don't wait till the last minute, call us now! Mobile touch to call us now:

(904) 278-5566

or email us and we will respond to you quickly (usually within 15 minutes or less during business hours).